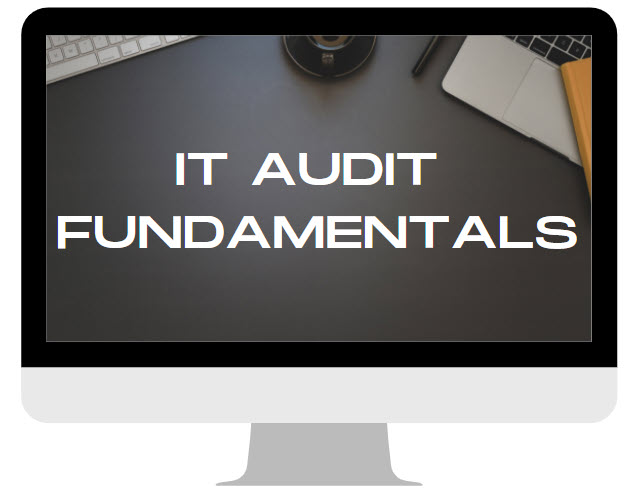 Complete Introduction to IT Audit, Controls, and Testing
This self-study course teaches the foundational principles that are needed for a successful career in the IT Audit and Compliance field.
This course is for those that are interested in a career in IT Audit, Compliance, Governance, Risk and Controls (GRC), or Cybersecurity. 
You get 2 CPE credits and a completion certificate upon course completion!


Course Details
This course is designed for beginners and also
for those looking to refresh their basic knowledge about IT Audits.
It teaches the practical aspects of conducting IT audits and is not focused on the CISA certification. CISA aspirants can still benefit from taking this course because they will learn and better understand basic IT Audit concepts in preparation for the exam.


Course Objectives
In this course, you will:
- Learn the purpose of IT audits and why they are conducted
- Learn about controls, the different types of controls, and the importance of controls
- Learn about the types of control testing and testing techniques
- Learn how to perform IT controls testing to reach a testing conclusion, and
- Learn about several laws and regulatory standards governing audits
Learning Objective Activities
There are ten (10) PRACTICAL learning objective activities covered in this course. They reinforce the concepts presented in the course and link them to real activities that occur when performing IT audits.


Realistic Assessments
The course quizzes and assessments are based on real-world IT Audit control testing activities.


Regulatory Standards
This course also provides a great overview of the Sarbanes-Oxley (SOX), PCI DSS, and SSAE18 regulatory standards.
About the Course Instructor
Hello there!
My name is Peju and I have worked in the IT field for over 15 years.
I have experience in the IT Audit and Compliance field including working for KPMG for over 10 years.
I also own the site 
www.youritcareer.com
 where I cover topics on how to transition to an IT career.
I taught several IT Audit courses for Big4 consultants across the United States with a focus on training new employees that needed to understand the basics of IT Auditing.
I have also trained several students that successfully switched to an IT Audit career after the training.
My IT certifications include 
CISA, CISM, CFE, PMP, ITIL, RSA Archer Administrator
I'm on a mission to create practical, informative, and high-quality courses for IT Audit and Governance, Risk and Controls courses that you can use to quickly scale up your IT career.
My goal is to present information in a logical, informative and practical way without boring you with long lectures and unnecessary details.
I include plenty of quizzes, course activities and assignments to help you understand the course material well enough to apply the knowledge immediately.
If you want to learn and apply information quickly, then I look forward to helping you achieve your goals!


Let's work together! 
Frequently Asked Questions
How is this course different from your Udemy and YouTube course?
This is the FULL course that has a small part on Udemy and YouTube. I took the FULL course down from Udemy because this platform gives me more flexibility to interact with students and help them as needed. (Note: If you purchased the full course from Udemy prior to June 2021, then this is the same course)


The free mini-course on YouTube is a small part of this course.


This course includes more information, bonuses, quizzes, assignments, learning objective activities, and downloadable resources not available anywhere else.
How can I join the student community?
Do I get a completion certificate?
Yes! You get a completion certificate and 2 CPE credits upon completion of the course!
Is my credit card secure?
I am very security conscious and credit card security is extremely important to me. That's why I've partnered with Stripe and PayPal to handle the billing and provide a secure socket layer, 128-bit encryption. So, feel comfortable knowing that your transaction is 100% completely protected from fraud using these payment partners. I NEVER have access to any of your credit card information.