I went from ZERO experience to experienced Big4 IT Auditor
I went from an international student to working in one of the Big4 Accounting firms as an IT Auditor right after graduation (without any experience!).


BUT


There were many others like me in the IT Audit field.


In order to stand out in the field of experienced IT Auditors, you need to find your edge.


You see, there are different levels of experience in IT Audit. If you want to differentiate yourself from the pack, you need to get more knowledge around specific technologies.


One of the most popular ERP technologies out there is SAP.
The combination of IT Audit experience with SAP is sure to set you apart when you're looking to advance your IT Audit career.
I went from being a regular IT Auditor to being sought out based on my technology skills.
You can learn everything you need to start performing SAP IT Audits within a week (even with your busy schedule)!
With SAP IT Audit knowledge, your resume will stand out from the crowd of IT Auditors.


You will also command a higher salary with your increased technology skillset.


Take a look at some student reviews from my main IT Audit course that also included SAP IT Audit
Introducing


SAP IT Audit
A self-study, hands-on program to learn how to perform IT Audit testing for SAP.
This is a completely digital course that you can take from ANYWHERE. All course materials and videos are pre-recorded for you to watch at your convenience ANYTIME.
This self-study course that teaches you how to perform SAP IT Audits. This course is practical and gets straight to the point.
You get LIFETIME ACCESS to the course content.


PLUS you get access to the private course community to ask questions!


Let's take a look inside what you will learn in each of the program modules.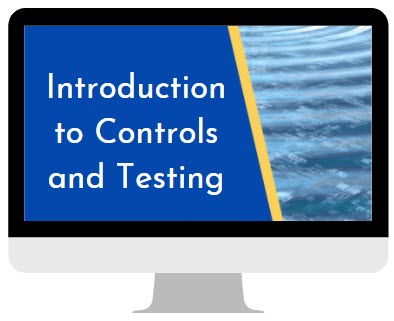 Module 1: Introduction to Controls and Testing
In this module, you will learn all about IT controls and how to test them. Controls are the basic elements of IT environments that are tested when performing IT Audits. You learn about the different ways to test controls, how to select sample sizes, and how to conclude on controls testing. In addition, there are 10 practical learning objective activities that reinforce the module learning objectives. This is not specific to SAP but gives you the foundational knowledge required to understand how to test controls.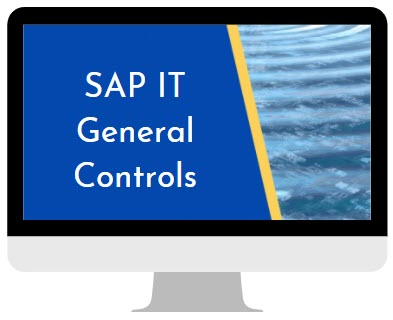 Module 2: SAP IT General Controls
In this module, you will learn all about key IT General Controls that are tested for SAP. This module covers basics of SAP Security, Change Management and Computer Operations as related to IT Audits. An understanding of these concepts build on the foundation of the concepts learned in Module 1.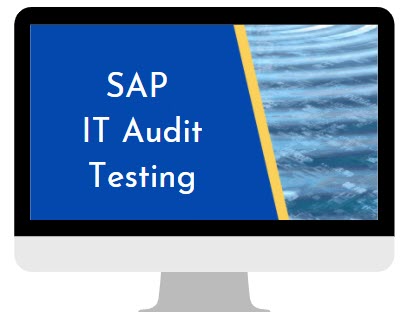 Module 3: SAP IT Audit Testing
In this module, you will learn how to perform SAP IT Audit control testing. This is a practical testing demo and you see exactly how to obtain and use information from SAP for testing. There is also a practical assignment in this module that requires you to test 10 controls based on what you learned. for you to test on your own for practice. Audits typically assess risk as part of the process. So, a foundational understanding of IT Risk Management will better prepare you to learn how to perform IT Audits.
Do You Like FREE Bonuses?
I LOVE bonuses! 
So, in addition to those incredible modules I just showed, you will also be getting 5 bonus materials for FREE!
These bonuses were specially selected because of the way they complement this course.
Total Bonus Value is over $3,000!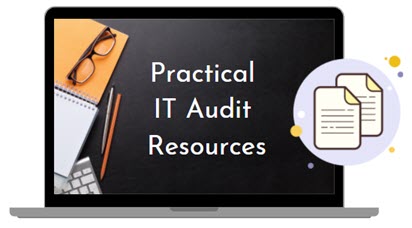 Bonus 1: Practical IT Audit Resources
Value - $500
This bonus gives you access to very detailed course resource templates. These include IT Audit Programs with detailed test procedures.
Bonus 2: GRC Tool Navigation
Value - $500+
This bonus will teach you how to navigate one of the most popular IT Audit management tools used by most organizations (RSA Archer). When you work in IT Audit or Compliance in an organization, you will need to learn how to use tools like this to document and track audit related work. This is a great addition to your resume.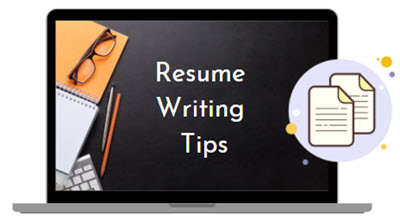 Bonus 3: Resume Writing Tips
Value - $500+
You are most likely taking this course as part of an IT career transition goal. So, this bonus provides a guide on how to update your resume to achieve the best impact during your job search. You will be provided samples of IT Audit resumes to help with the process. Resume writers charge up to $500 for this service.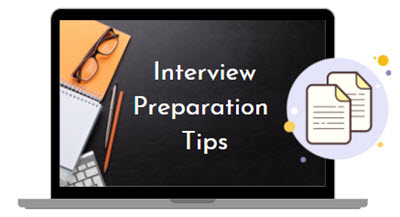 Bonus 4: Interview Preparation Tips
Value - $500+
Your resume may get you a call from HR but the interview will determine if you get the job. This bonus provides you an interview preparation guide. This will prepare you for interviews when you start looking for jobs. Interview coaching services can charge up to $500 for this service.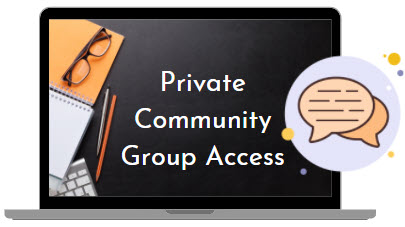 Bonus 5: Private Community Access
Value - $1,000
This bonus gives you access to a private community group dedicated to course students where you can ask questions. You can ask me questions directly and network with other students in the group.
See What's Inside the Course!
SAP IT Audit Curriculum
Who is SAP IT Audit For?
People who want to truly learn about SAP IT Audit and LEVEL UP in their IT Audit career
This course is not for tire-kickers that just want to check out the course. It is for those that have a true desire to learn about performing SAP IT
People who want to truly learn about SAP IT Audit and LEVEL UP in their IT Audit career
This course is not for tire-kickers that just want to check out the course. It is for those that have a true desire to learn about performing SAP IT Audits so that they can level up their IT Audit career in the field. This course is very practical and teaches exactly what you need to do when performing SAP IT Audits.
Those who are motivated to complete the entire course
This program is self-study and is for those that are committed to completing the entire course. This course is self-study and requires you to complete the course material to get the benefits. Success is not achieved in a day, so you need to put in your best effort.
Those who understand the importance of investing in their futures
If we want a better future, we have to be ready to invest in it. When I started the journey into digital course creation, I had to invest in courses to help me learn how to develop an effective online learning experience for my students. So, if you believe in investing in your future career, then this program is for you!
Busy People
I know many of you have your regular jobs and this course is in addition to everything else on your plate. You don't have time to waste and I respect that. That's why the course is self-study so that you can complete it when you want. I do my best to explain all the concepts in simple terms without any extra fluff. Every part of the course is what you absolutely need without any unnecessary extras.
Who is SAP IT Audit Not For?
People who want to become SAP Security Administrators
This course does NOT teach you to become an SAP Security Administrator. The focus of the course is to teach you how to perform IT Audits for SAP. So, security concepts are taught from an auditing perspective
People who want to get rich quick
This is not a get-rich quick scheme. This course requires you to study and complete the course assignment. It takes effort to become a successful SAP IT Auditor and this course is designed to cut the learning curve for you. However, you have to be consistently diligent with the work.
Anyone scared of studying and doing hard work
Success is not achieved overnight in any area of life. You have to put in the work necessary to learn the information being taught and complete the assignment. We all need to work hard for what we want. This course is about 3 hours and can be successfully completed within a week (including the assignment).
Anyone that thinks I have jobs waiting for them right after the course
I wish I had a company that could hire every student that successfully completes this course. Unfortunately, I don't (yet), so the law does not allow me to guarantee anyone a job after the program. The resume writing and interview preparation bonuses are designed to help with your job search effort, so please take those seriously.
Meet The Instructor
Hello there!


My name is Peju Adedeji and I have worked in the IT field for over 16 years.


I have experience in the IT Audit and Compliance field including working for KPMG for over 10 years.
I also own the site
www.youritcareer.com
where I cover various topics on how to transition to an IT career.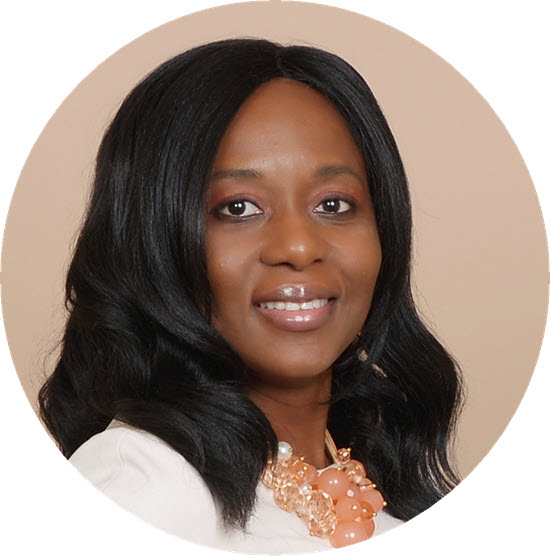 More About Me
I love to teach!
I taught several IT Audit courses for Big4 consultants across the US with a focus on training new employees that needed to understand the basics of IT Auditing.
I have also trained several students that successfully switched to an IT Audit career after the training.
My IT certifications include
CISA, CISM, CDPSE, CFE, PMP, ITIL, and RSA Archer Administrator
I'm on a mission to create practical, informative, and high-quality courses for IT Audit and Governance, Risk and Controls courses that you can use to quickly scale up your IT career.
My goal is to present information in a logical, informative and practical way without boring you with long lectures and unnecessary details.
I include plenty of quizzes, course activities and assignments to help you understand the course material well enough to apply the knowledge immediately.
I did the hard work over many years to become experienced in the field and I continue to take training courses to keep my skills current.


Now, it's your turn to achieve MORE success in IT Audit. I know you can do it.


Let's work together! 
Frequently Asked Questions
What is the course format?
This is a self-study course. The course content (videos, assignments, and downloads) are all digital and pre-recorded for you to access anytime You can email me at anytime or post questions in the private course community Facebook group throughout the week and I will respond promptly.


What if I don't know anything about IT Audit?
If you are brand new to the IT Audit field, then you should enroll in my comprehensive IT Audit Fundamentals Program. That program also includes SAP IT Audit, so you will get EVERYTHING that you need.
Is there a time limit to complete the course?
No. This is a self-study course so you can complete it at ANYTIME from ANYWHERE. In addition, you get LIFETIME access to the course. Sweet deal!
How do I access the training after enrollment?
After you enroll in the course, you will be directed to a page with a link to the course. You will also get an email with login details to the course website.
Is SAP Access included?
No. But, I will provide you information on how to get access to an SAP environment. This is the same SAP environment that I use for the course.


Do you offer refunds or guarantees?
Yes. I understand that you may have concerns about what happens if you decide this course is not for you after you enroll. You have up to 24 hours after you enroll to request a refund. Simply reply to the course registration email before that deadline. Note: If you have reviewed more than 10% of the course material, your refund request will not be granted.
What kind of support will you provide after the training?
I provide student support all my courses in a private course community group. Support includes answering questions related to the program.
Is my credit card secure?
I am very security conscious and credit card security is extremely important to me. That's why I've partnered with Stripe and PayPal to handle the billing and provide a secure socket layer, 128-bit encryption. So, feel comfortable knowing that your transaction is 100% completely protected from fraud using these payment partners. I NEVER have access to any of your credit card information.